The Team
The Programme is supported by
Sr Josephine Enenmo OLA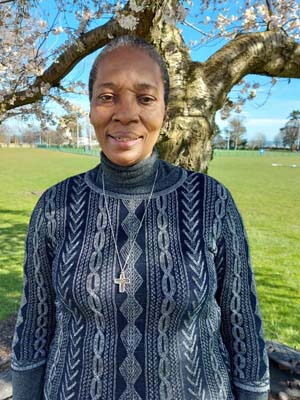 I am Josephine Enenmo, a religious Sister of the Congregation of Our Lady of Apostles.
I have been involved in the process of initial and ongoing religious formation for over 25 years. During those years, I have served as Director of Postulants, then of Novices; accompanied junior professed Sisters in my Congregation, and I have supervised formation programmes of religious institutes, societies of apostolic life and seminaries in Nigeria, my country of origin, and in other countries.

My awareness of the gap that exists in many formation programmes, especially in human formation, led me to train as a psychodynamic psychotherapist and to Psychoanalytic Studies at University of Roehampton, London. In 2011 I joined the team at the Institute of Formators, Du, Plateau State, Nigeria training priests and religious for the work of religious formation, becoming the Director of the Institute from 2012-2018 and later in 2018 the Religious Formation Ministry Programme at Loreto House, Dublin. My previous experience in formation of candidates for consecrated and priestly life prepared me to contribute to the development of an integral formation programme for these Institutes.
What excites me about RFMP is the internationality of the programme. I really enjoy interacting with and being enriched by participants who come from different parts of the world. I look forward to meeting the next set of participants in September 2021.
Fr Joe McGee MSC
As a Missionary of the Sacred Heart I have worked mainly in the UK and Ireland, in parish ministry, school chaplaincy, initial and ongoing formation, retreat ministry, spiritual direction and pastoral supervision as well as in provincial leadership.
I am delighted to work as a member of the team at the RFM Programme. Each year brings its own challenges and opportunities as we welcome people from all corners of the world. Being a former participant, I appreciate first-hand how this programme can enrich one's ministry in the service of God's people.
I enjoy facilitating individuals and groups, supporting them as they learn from each other and from their life experiences. What enthuses me about the RFM Programme is its multiculturality and the enriching opportunities this brings for all participants.